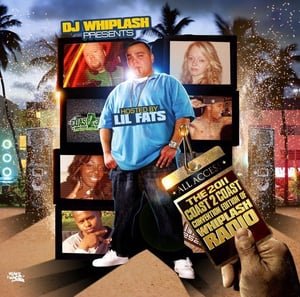 $

200.00
MIXTAPE PACKAGE DETAILS: $200
This Package Includes....
*Please be aware that I will not do projects that are longer than 15 tracks*
*Make sure I have at least 8 - 10mins of spare time to work with on the mixtape* (Tracks must be 70mins max in length before you send to me)
· Front and Back Cover Graphic Design....
· DJ Whiplash hosting and mixing....
· All drops and skits are included by the Artist....
· 1 Email Blast per week for 4 weeks (sent to industry tastemakers such as DJs, bloggers, magazines etc)
· All Mixtapes will be hosted on Datpiff.com 2520NYC.com & Coast2coastmixtapes.comas well as DJ Whiplash's Podcast Site (http://djwhiplash.podomatic.com/), MySpace & Blog (http://whiplashradio.blogspot.com/) pages
· Ten Tweets with download link via DJ Whiplash's Twitter page....
· Package also gives you 1 slot on DJ Whiplash's "Whiplash Radio" Mixtape series in that same month.
Includes Coast2Coast Promo (Basic):
• Mixtape Posted on 100+ Websites/Blogs including DatPiff.com
• Email blast to Coast 2 Coast Email List of 50,000 Industry Contacts
• Custom Mixtape Report Updated Daily (Verified by Google and Yahoo!)
• Mixtape Review in the next issue of Coast 2 Coast Magazine
• Mixtape Posted on www.Coast2CoastMixtapeDJs.com
• Mixtape Posted and Blasted to All 2,000+ Members of www.coast2coastcommunity.com
And more....